My Hospital Free MMO Game
Welcome to the healthcare! Welcome to the world of medicine! My Hospital is a new browser multiplayer game from the Cherrypick Games studio, which will allow you to play the role of director in your own medical facility. Manage it, make diagnoses, create new medicines and decide how your hospital will develop. Health of virtual patients depends on you!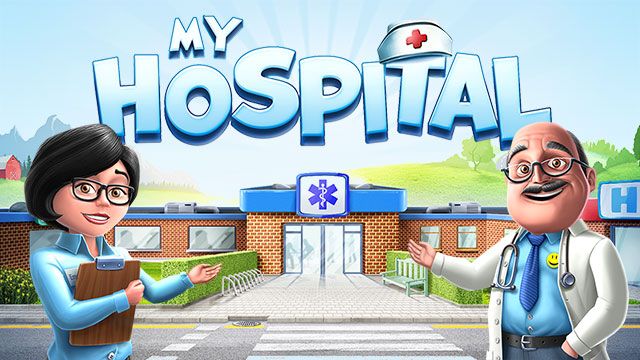 Play Now
At the very beginning the game will lead us by the hand. The tutorial, which is well-integrated in the gameplay, is non-invasive and passing it is associated with the development of your own hospital. Game will teach us basic mechanics and how important our strategic sense is. Of course, it will be more useful in later stages, but it is the introduction that shows us what we will be dealing with as the game progresses.
The multitude of options for expanding our facility is huge. We will start with the construction of several doctor's office and treatment rooms. Each doctor's office deals with a different type of - humoristically named - diseases. We have here, for example, Tummy Doctor, Apetite Doctor, Fever Doctor and many, many others. In the treatment rooms, however, we will encounter patients with random conditions, which we have to cure.
In both cases we use elixirs and pills for their treatement. We create them in our laboratory, where we will find a lot of different recipes for further medications. The more advanced ones needs, obviously, the basic ones, so it is very important to learn quickly which of them we use in case of a specific disease or in a specific doctor's office. Planning their production will affect the effective treatment of our patients.
If it comes to the patients themselves, you need to know that over time they will visit your clinic with more and more serious problems. Basic potions won't be enough to cure them. You will also need - for example - a "capsule for a broken heart" and so on. It's important to produce further mixtures in your laboratory and store them in the warehouse! Thanks to this, our patients will get well as fast as possible!
A healthy patient is the virtual cash "injection". With it we are expanding our hospital, buying more treatement rooms, doctor's office and cosmetic items. Their purchase is quite expensive, so it is worth planning a way to develop the facility, not to spend all your earnings at once! At the beginning we do not have that much choices, but with the game progress we get access to multitude of options on which we will use the virtual cash.
Of course - as it in F2P titles is - we also have premium in-game currency here, which is "hearts". Thanks to them, we can definitely speed up the process of creating a medical facility of our dreams, because they allow us for the immediate access to potions, obtaining ingredients and increasing the number of slots for the new patients. Hearts make the game a little bit easier, but they are not necessary to fully enjoy it.
My Hospital also offers a lot of side activities that let us to collect coins, hearts and items necessary in the clinic. These are – for example: leveling up, finishing additional quests, receiving free goodie boxes or participating in Bubbles lotteries. So there is nothing to worry about - My Hospital is definitely not the Pay2Win title!
Cherrypick Games studio production is a great title for the fans of both simulation and strategy. If you have always wanted to become the director of your own hospital and administrate it from the very beginning to its end, this game is perfect for you. Colorful graphics and well-done gameplay will provide you dozens of hours of fun.
Here are few useful tips for you:
• All objects can be moved, so do not be afraid to rearrange the hospital space, • Do not buy cosmetic items at the beggining of the game, • Do not spend free hearts right away. They will be more useful later in the game, • Buy new doctor's offices and machines as soon as they become available, • Create new elixirs just when there is a free space in your probes, • Pay attention to exclamation marks appearing at patients, • Do the side quests for additional prizes, • Get free, recurring goodie boxes, • Participate in Bubbles lotteries to win valuable items (it's worth spending a few hearts for additional prizes), • When you run out of needed items, visit the pharmacies of other players - maybe you'll find what you are looking for… for a good price .